Employment
Helpful Info for Hiring Managers
Job Seekers
Referrals
July 23, 2018
Are you struggling to make inroads with a company or industry?  Perhaps finding a well-connected recruiter can help make that right connection and put you on the path to being hired.
Trying to find a recruiter can be an overwhelming task, especially with the vast amount of information available on the internet.  Perhaps instead of asking "How Do I find a Recruiter?", one can rephrase the question to "How can I help a recruiter find me?"
Top recruiters in your industry work like a sniper, obsessing to find a well-qualified candidate that the client will be thrilled to hire.  Recruiters shoulder intense pressure to perform under aggressive deadlines, forcing them to work quickly and efficiently.  Most top recruiters that I know focus on networking within selective circles of influencers to identify top qualified candidates fast.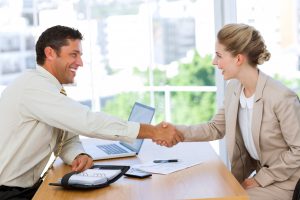 Make yourself discoverable through working your network. High performing recruiters tend to work up and down their network  of connections to source names of high quality candidates from trusted contacts.  This is a great way for them to find candidates with admiration among colleagues.  Word spreads among industry professionals creating a hidden channel of information that gets funneled to prospective candidates.  Many of my placements come from talking with a person within an industry and they say, "you can contact my former colleague who is a great fit for this role" – and that person is generally happy to hear about the position that perfectly fits their background.
How can you make sure that your name is mentioned to recruiters?  In short this is done through networking with people who will rave about your skillsets.  I'll provide 4 practical networking tips.
Notify all close personal and professional connections that you may be open to hearing about new opportunities.   Create a type of "spider web" of people looking out for you.  You can reach out to them casually to catch up and mention that you may start to entertain new career opportunities.  Take some time to inventory your connections developed through the years and drop them a line.  For example, you can reconnect with a friendly coworker from your last company, or former boss that you got along great with.  This begins to lay a foundation of bringing your name to the front of your connection's mind.  Like casting a large fishing net in the ocean, you benefit when advocates drop your name to recruiters.
Edit and update to your LinkedIn profile.  You can change your picture or edit your interests.  This alerts recruiters in your industry that your situation may change.  Often you will find recruiters sending emails with related opportunities. Also, you can change your status on LinkedIn to "open to new opportunities" (Not every recruiter has enough resources to purchase a professional license of LinkedIn Recruiter, so you can add your phone number to your profile, and receive calls from recruiters.  Don't worry, recruiter's won't bite.  They are normal people like you and believe it or not, we don't enjoy bothering people).  CAUTION: make sure that you are no too obvious about your openness to look, just in case your company monitors your LinkedIn activity.  Be smart about it.
Refresh your profile on job boards. As you become more active in your job search, you can refresh your resume on job boards like monster.com, careerbuilder.com, indeed.com, simplyhired.com, ziprecruiter.com and Linkedin.com.
Attend a career fair.  I would be remiss to say that a great option can be to attend a career fair or job fair.  Going to a job fair is great way to make new connections and interview with several companies at once. Our company is a large provider or sales focused career fairs across the country, and we have tremendous in-roads with many clients.  Hand delivering a resume to a hiring manager is the most effective way to get their attention and stand out from other applicants.  We enjoy helping candidates discover new opportunities.  
Finally, you can contact me if you are looking for a sales or sales management related position anywhere across the US.  Our company provides direct staffing solutions as well as career fairs.  I oversee all our staffing efforts within our company.  You can shoot me a copy of your resume with an idea of what you are looking for and I'll update my notes.  I work with many companies to help them fill sales and market.
Disclaimer:  All views expressed on this site are my own and do not represent the opinions of any entity whatsoever with which I have been, am now, or will be affiliated.